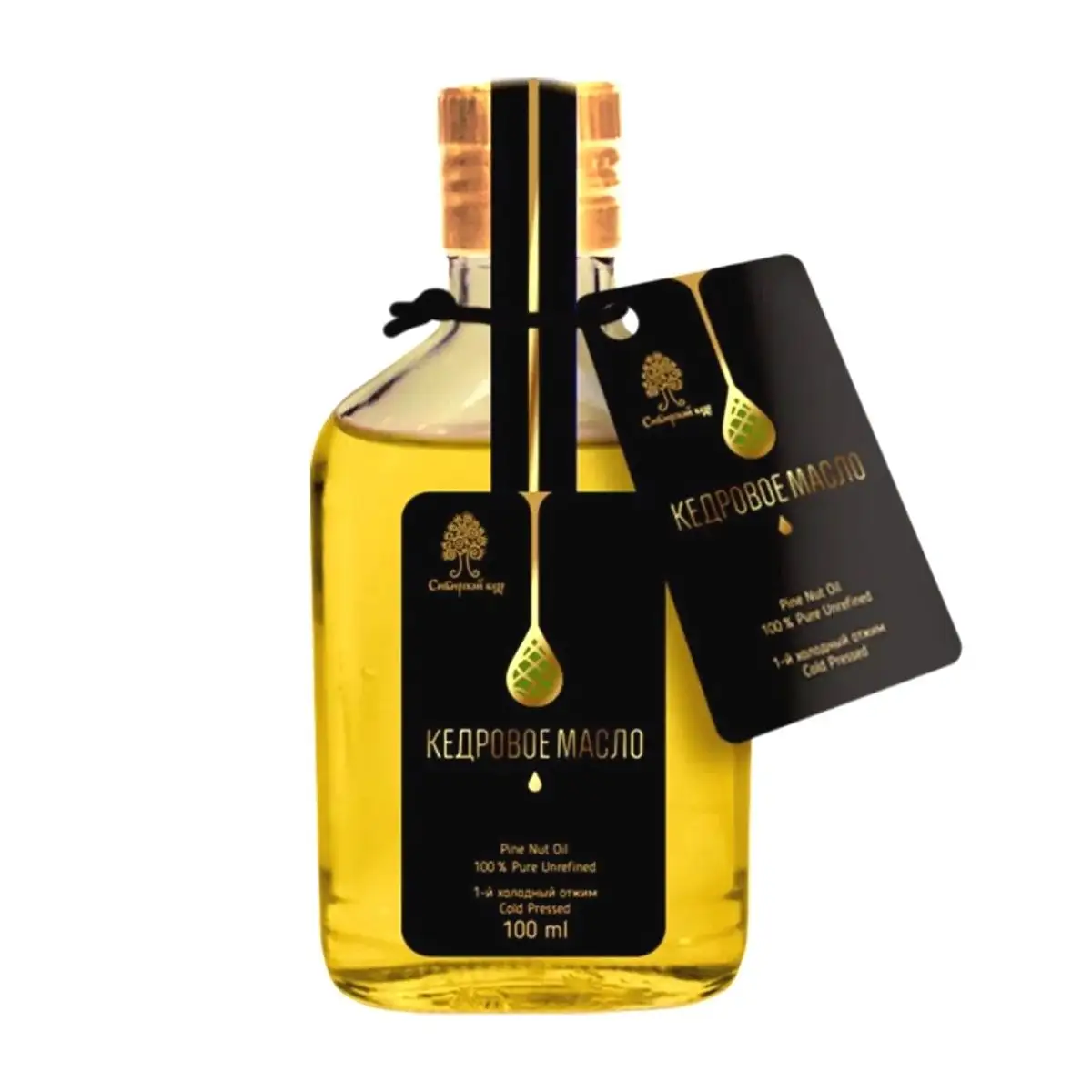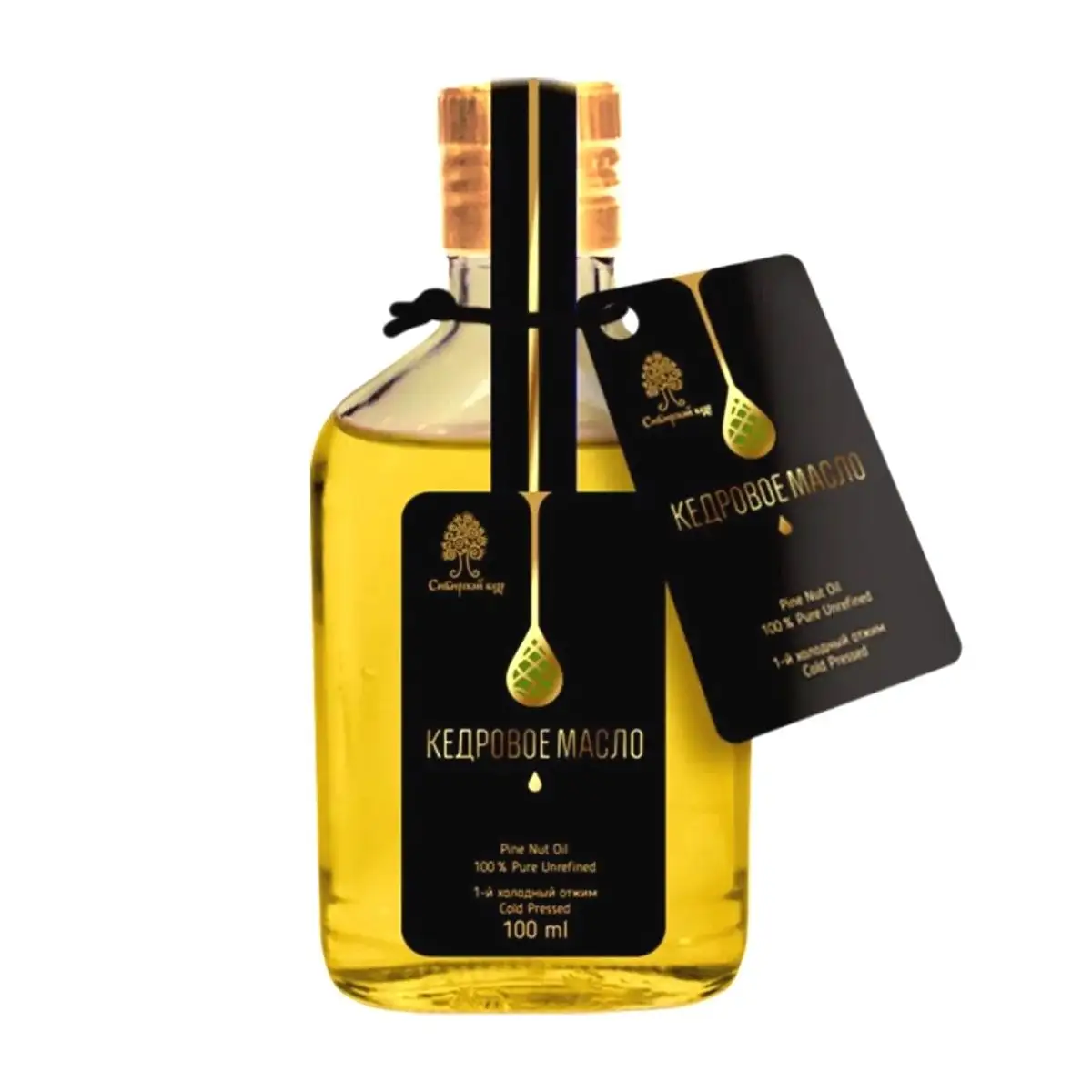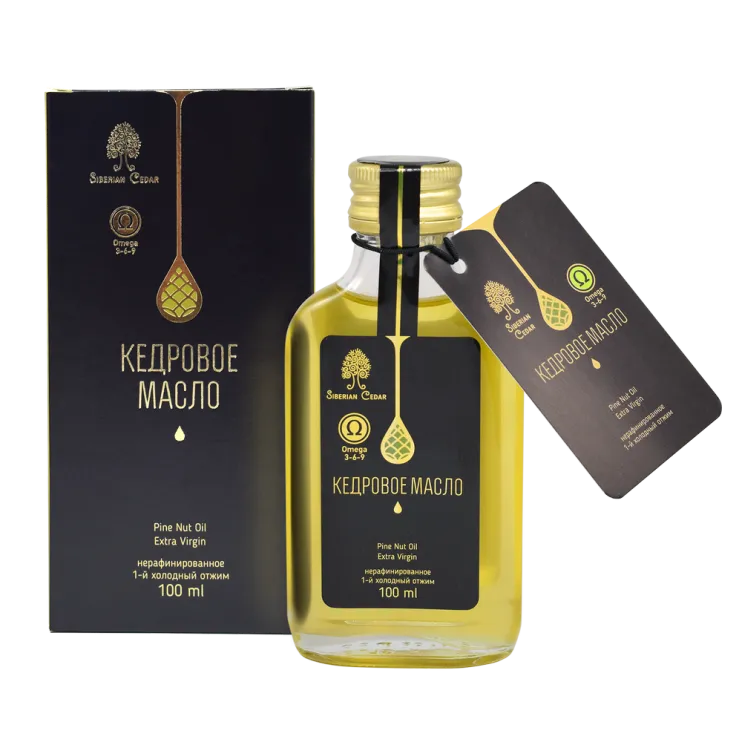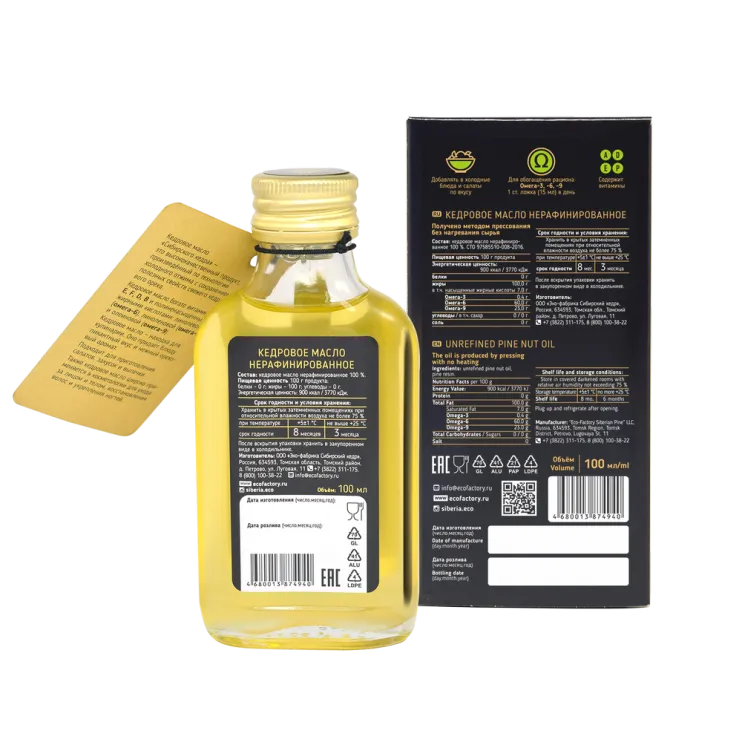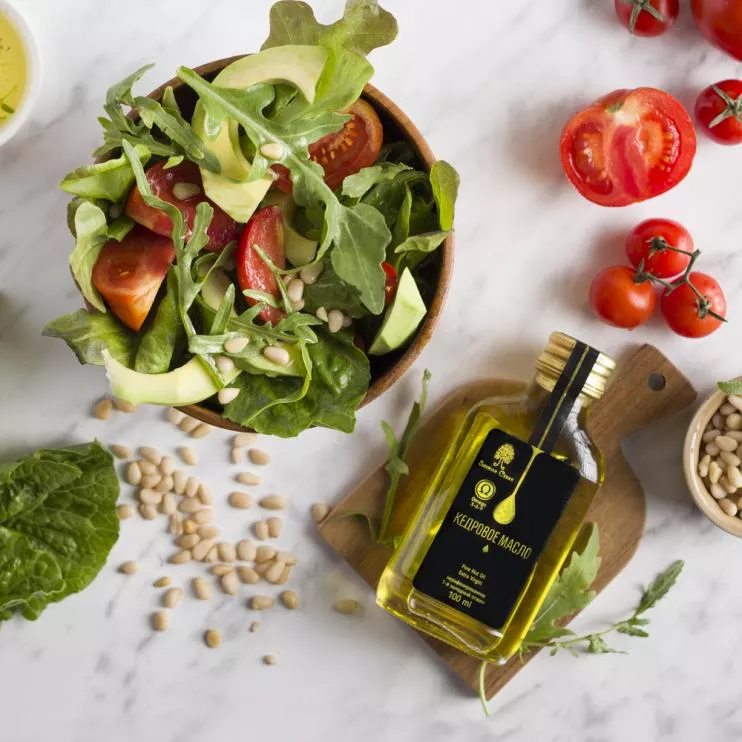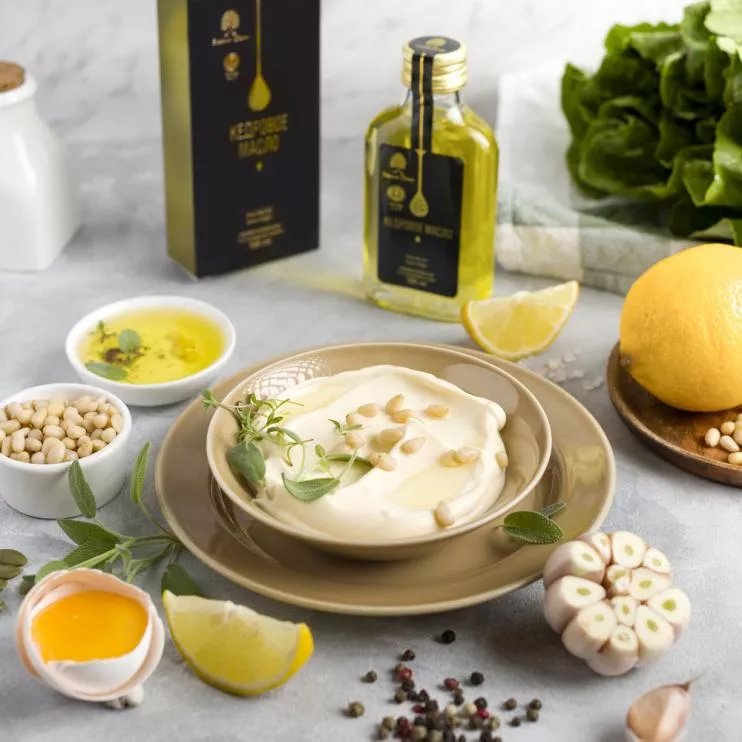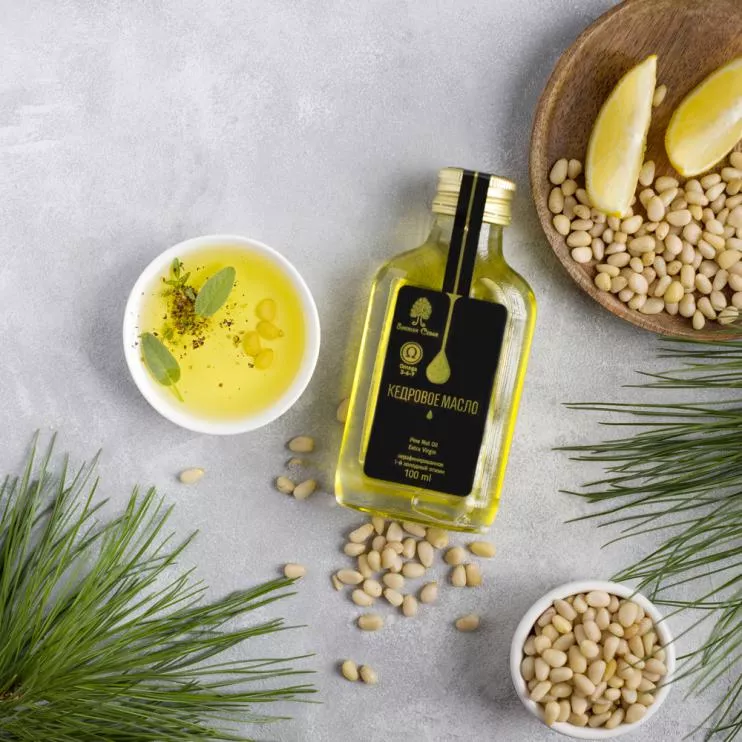 Siberian Pine Nut Oil, Extra Virgin
High-quality product, made using the cold-pressed technology, preserving the beneficial properties of fresh pine nuts. For centuries pine nut oil has been known for its ability to cure numerous gastrointestinal diseases such as stomach ulcers, Helicobacter pylori infections, irritable colon, proctocolitis and heartburn.
About Product
Best Use For
Digestive Disorders; Omega, Vitamins & Antioxidant supplement; Natural Herbal Remedy; Body Support; Cooking; Superfood; Natural Treatment for H Pylori gastritis;
Specific Uses For Product
Gastritis, Ulcers, Heartburn, H Pylori, Anxiety, Weight loss
How to Use
Internal, External
Ingredients
Siberian pine nut oil 100%
Packaging
glass bottle with dispenser, cardboard box with instructions for use
Description
Pine nut oil is a unique 100% natural product, which has no analogs in nature. Suitable for salads, snacks, and baking. Pine nut oil is rich in vitamins E, F, D, B, and polyunsaturated fatty acids: linoleic (omega-6), linolenic (omega-3), and oleic (omega-9).
Vitamin A, contained in pine nut oil, makes this product useful for children, helping them grow and maintain their visual acuity. Pine nut oil is valuable for high group B and D vitamins, thus normalizing the nervous system's activity and improving blood composition. In terms of vitamin E content, pine nut oil is five times higher than olive oil and three times higher than coconut oil. 
Vitamin E plays an irreplaceable role in all reproductive processes: support of the reproductive system, fetal development during pregnancy, body growth, the formation of milk in lactating women.
Physicians recommend pine nut oil during pregnancy. Pine nut oil is superior in vitamin F to the known source of this vitamin, fish oil. Vitamin F is a group of essential fatty acids responsible for growth and cell renewal. They are not synthesized in the human body but only come from food.
Therefore, pine nut oil is a product necessary for consumption by people of all ages: for children to grow the body and for adults to preserve youth and good health. Thanks to essential fatty acids, pine nut oil effectively removes radionuclides, heavy metals, and other toxins from the body.
Regular consumption of pine nut oil helps:
normalize the activity of the nervous system and metabolism;

cleanse the body by removing radionuclides, heavy metals, and other toxins;

improve blood composition, helping to increase hemoglobin level

ensure the prevention of digestive diseases

improve immunity

maintain visual acuity

prevent brittle hair, nails
Pine nut oil is suitable for:
people living in large cities and other ecologically polluted areas;

those working with increased psychological and physical stress;

gastric ulcer and duodenal ulcer, as well as those operated on for this;

high blood pressure and for the prevention of atherosclerosis;

pulmonary tuberculosis;

auxiliary treatment of burns, scars, and other skin ailments;

children for the full formation of the body;

pregnant and lactating women.
You can use pine nut oil as an extra natural ecological agent accompanying primary treatment. Estheticians use pine nut oil for treating almost all skin imperfections (dermatitis, seborrhea, acne). They include it in masks against skin aging and use it to soften cuticles, dry hands, feet, and the whole body. Siberian pine oil is entirely absorbed through the skin. It can be an oil-base for homemade creams. 
For skin defects, you can use pine nut oil both topically and internally. The minimum treatment course to restore the skin's structure, nails, or hair consists of 10-15 procedures.
Improve skin condition. Rub warm oil into clean, dry skin with light circular movements. Leave on for 10 minutes, then wash off with warm water without soap and pat dry with a towel.
Bath with oil. For psoriasis, neurodermatitis, and other itchy skin problems, add oil to the bath (a few drops are enough). Bathwater should be 1-2 degrees warmer than body temperature, but in no case hot.
For wounds, burns, frostbite. For the disinfection of wound surfaces and accelerating the healing process, pine nut oil must continuously act on the skin. Impregnate with sterile gauze dressings and apply to the wounded place. Change wounds dressings once a day.
Achieve a particularly strong effect with the combined use of oil and sap (resin) of Siberian pine (turpentine balsam).
Dietary supplement. It is not a medicine.
Reviews
Average rating: 4.7 out of 5; Total: 6 Reviews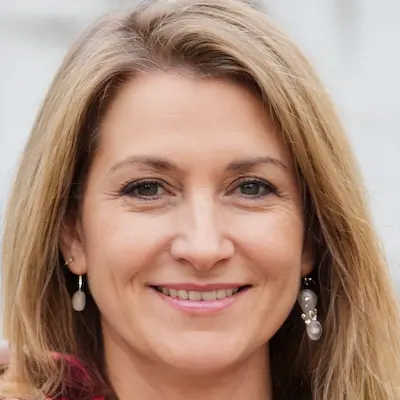 Natural sources of protein and fats for vegetarians
Great for vegans and plant-based
If you have a predominantly plant-based diet, breastfeeding, doing sports or dieting or just feel a lack of vegetable fats, then you need this oil like air! I was able to lose weight and not lose hair and nails as a nursing mother. For me this result is more indicative of all "pharmacy" vitamins and dietary supplements!
Reviewed in Canada, Montreal, Quebec on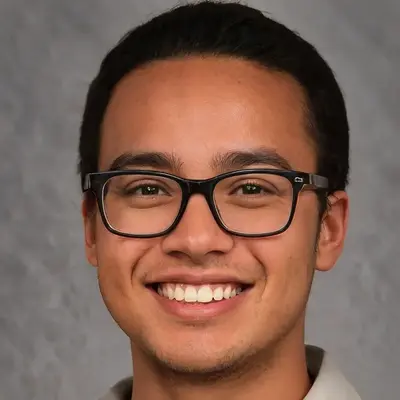 H Pylori Gastritis symptoms are GONE!
During gastroenterological examination Helicobacter pylori and gastritis was diagnosed. My doctor said that gastritis could develop due to the activity of this bacteria in my stomach, but at the same time, there is no indication for immediate eradication (antibiotics), that it can do more harm. He said, it was necessary to treat gastritis and start a diet.
I decided to try your pine nut oil to ease my condition. I started taking the product by 1 teaspoon an hour before meals. During the first few days I began to feel much better, the abdominal pains disappeared.
I continued to take it, even when I was on a business trip, and every day I felt better and better. Upon my return I decided to undergo an examination again, and the doctor confirmed that my stomach condition improved significantly and told me to continue taking therapy and the oil. I recommend pine nut oil to anyone who thinks about their health!


Reviewed in United States, Chicago, IL on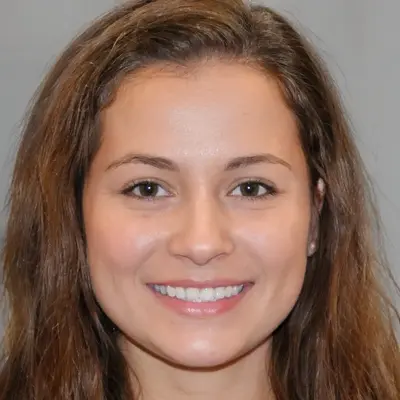 Vitamin E supplement for skin, hair and my stomach
I tried to use the oil for cosmological purposes, as I read about many useful properties of it for skin and hair. I made a mask for strengthening hair roots. I liked the result, but honestly, I feel sorry for spending the product. Therefore, I continue to delight with oil only my stomach)! By the way, for gastritis sufferers – pine nut oil is an option of salvation and an extremely useful thing!))
Reviewed in Denmark, Copenhagen on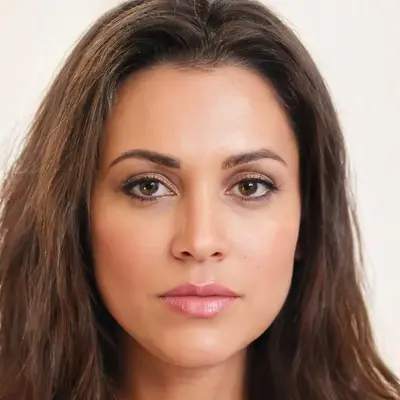 Antioxidant natural product for woman health
It's one of the best oils for women's health. Extra virgin pine nut oil from "Siberian Flavor" pleased me with its mild, slightly sweet taste with a light shade of raw pine nuts, golden color and great benefits.
Reviewed in United Kingdom, Manchester on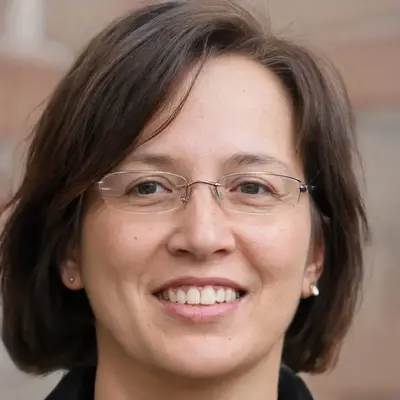 Top stomach pain home treatment
I have long known about the benefits of taking pine nut oil on an empty stomach. I bought pine nut oil from other companies, but it was not pleasant and it was not possible to eat it its own, let alone, on an empty stomach.

This is the first pine nut oil that I really enjoy drinking. There are no repulsive flavors in its taste. 
Reviewed in Canada, Toronto, Ontario on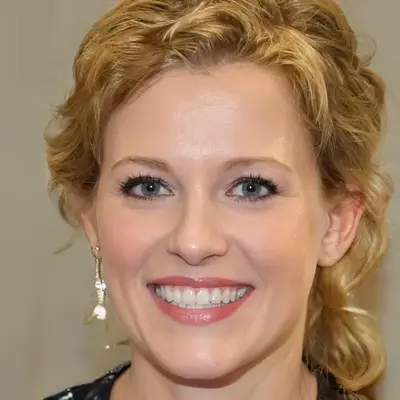 Natural superfood for family
I was happy to find extra virgin pine nut oil at your store - it is delicious and, most importantly, healthy. Everyone in my family eats it with pleasure with any food. But it ends fast))
Thanks for the great product!
Reviewed in United States, Philadelphia, PA on
Questions
What is Siberian pine nut oil good for?
Pine nut oil is a unique food product and dietary supplement, even when consumed in minimal quantities (from 1 teaspoon per day), it will allow you to normalize many metabolic processes in the body, improving the function of many organs and systems. For example, Siberian pine nut oil is good for digestive tract, cardiovascular system and lot more.
It surpasses all other known vegetable oils in terms of beneficial properties, and has been used by people for many centuries to treat various diseases.
Read more about healing properties of pine nut oil:
What are the side effects of Siberian pine nut oil?
As such, side effects after taking pine nut oil have not been identified or diagnosed.
If you are allergic to any type of nut, your body can react similarly to any pine nut products.
Is pine nut oil bad for you?
In fact, the benefits of using pine nut oil far outweigh the potential side effects.
Talking about the possible dangers of pine nut oil, we can only say that it is dangerous if only you have an allergy to pine nuts. In this case, it is contraindicated for you. Just like any oil, it requires compliance with storage conditions, since the consumption of spoiled oil can be dangerous to your health.
Any other side effects and harm of pine nut oil in the scientific and clinical medical literature have not been recorded or described.
Can you cook with Siberian pine nut oil?
Pine nut oil is widely used in cooking. Due to its unique taste characteristics and pleasant aroma, it can complement salads, various snacks and ready-made cereals. In addition, this unique product goes well with poultry meat prepared in any way, complementing the taste of baked vegetables and fresh or cooked fruits.
Yet frying pine nut oil is not recommended: due to its low boiling point, it will burn and smoke at the lowest frying temperature. Under the influence of high temperatures, this product loses many useful substances that are contained in its composition. In addition, the taste and aroma of pine nut oil under the influence of high temperature will be spoiled and lose its uniqueness.