Pine Resin 100% benefits and methods of treatment
Traditional medicine knows hundreds of ways to use resin, and reviews of its effectiveness say: gradually, with the help of such balms, many diseases are cured – from skin to internal ones.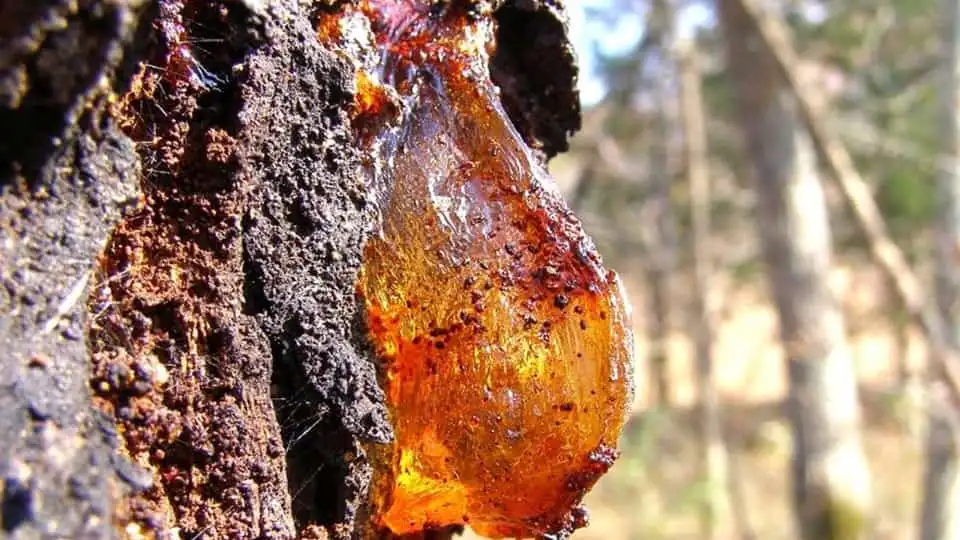 The value of this compound, which the cedar tree secretes to ward off pests and heal damage, has been known to mankind for a long time. However, only now the cedar resin of 100% consistency is produced and offered in the pharmacy and trade network on an equal footing with modern medicines developed by medicine.
Traditional medicine knows hundreds of ways to use resin, and reviews of its effectiveness say: gradually, with the help of such balms, many diseases are cured – from skin to internal ones. At the same time, the instruction allows you to prepare a balm of the desired type with a suitable consistency of this valuable natural substance.
The composition of the cedar resin is well studied
It is not in vain that the substance has an unlimited shelf life. It contains up to 35% of valuable volatile substances such as turpentine and derivatives. Also found succinic acid and some oxygen compounds.
And 2/3 and more are represented by special resin acids, their derivatives, plant impurities and valuable vitamins C and D.
Those who have coped with their diseases call the resin no less than "living water", which relieves and cures even such formidable diseases as neuralgia, rheumatism, and problems with the upper respiratory tract.
Buying resin is quite simple – for this you need to find a suitable online store and place an order (by e-mail, by phone or directly on the website)
The advantages of cedar resin are such characteristics as:
convenience in preparing a variety of products – from ordinary ingestion to baths, massage oils, compresses and other forms,

a wide range of applications – from diseases of the gastrointestinal tract, skeletal system, respiratory organs, kidneys and to cosmetic and even household use,

unlimited use of a natural substance,

favorable price of 100% resin: ready-made prepackaged preparations with a concentration of 5% in the retail network cost from 400 rubles. and more – and from 100 ml of 100% substance, you can prepare 20 such packages yourself.
How to use all the resin?
There is no need to fear that after the course of treatment you will have an "unnecessary" remedy.
The advantages of the resin 100% that it is suitable:
for a pleasant, relaxing and healing massage,

for a fortifying coniferous bath,

as a strong and natural cosmetic product,

as a prophylactic agent against a whole range of diseases.
Folk Recipes with Pine resin
We share very interesting folk recipes with resin.
Did you recently cut your hand and the wound does not heal for a long time?
An ointment with resin will help you.
Mix fresh resin with sea buckthorn oil in a 2: 1 ratio, boil the mixture over low heat for 2-3 minutes, cool. Lubricate the wound two to three times a day until completely tightened. Store the ointment for six months in a cool place in a tightly closed bottle.
Are you tormented by pain in the sacrum and lower spine?
Mix a teaspoon of liquid cedar resin with 200 g of massage oil and use for a therapeutic massage. The course of treatment is 12-15 sessions.
Since early childhood, you have been bothered by constant colds and herpes – do sores appear not only on the lips, but also on the nose?
Usually, before the appearance of herpes sores on the lips, there is a slight redness and itching. Take a cotton swab soaked in a mixture of resin with any vegetable oil in a 1: 1 ratio, and apply to this place for 20-25 minutes. Repeat the procedure after 2-4 hours. For colds and sore throats, dissolve 1/2 teaspoon of cedar resin in your mouth twice a day after meals.
How to treat stomach ulcer with tree resin?
In the morning, half an hour before meals, hold a small (pea-sized) piece of cedar resin under your tongue for 8-10 minutes. The course of treatment is from 3 weeks to one and a half months
Does cedar resin help against sexual impotence?
Against impotence, tincture with sap helps well. Pour a teaspoon of cedar resin (hard–crush) with 0.5 liters of good vodka and let it brew for 5 days in a dark place, shaking occasionally. Drink 3 tablespoons at lunch and dinner.
Has polyarthritis twisted you?
It is necessary to go to the bathhouse twice a week to steam all the bones, and add coniferous broth with resin to the water (2-3 tablespoons of crushed dry buds and branches of spruce or pine and 2 teaspoons of resin to brew with a liter of boiling water, simmer 15-20 minutes). And it is also very good to rub the joints with resin in half with vegetable oil every other day. Two weeks of treatment – two weeks of rest, and then you can repeat it again. The joints do not hurt, and they stopped swelling.
Contraindication
The only contraindication to treatment with resin is individual intolerance.
To find out if you are allergic to conifer resin, rub a drop of resin into the skin on the inside of your forearm.
If the redness does not appear in this place after 12-20 hours, you can start treatment.
Posted by: Siberian Flavor Team